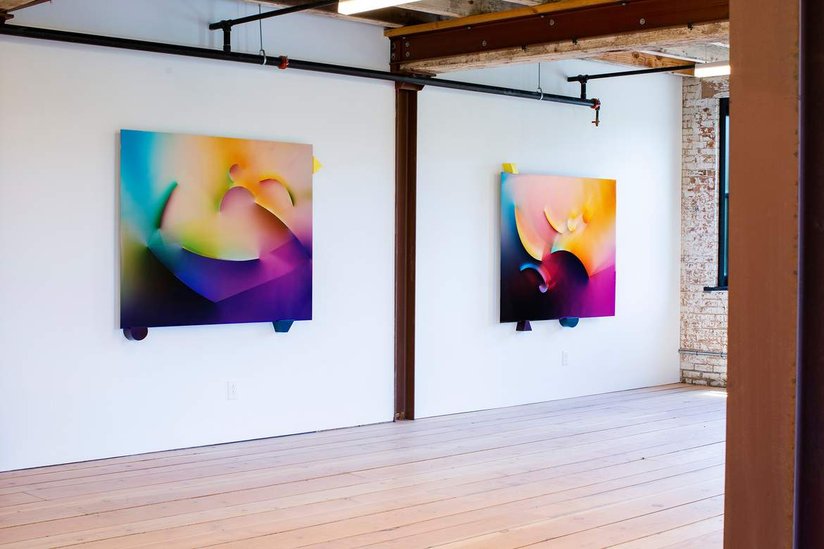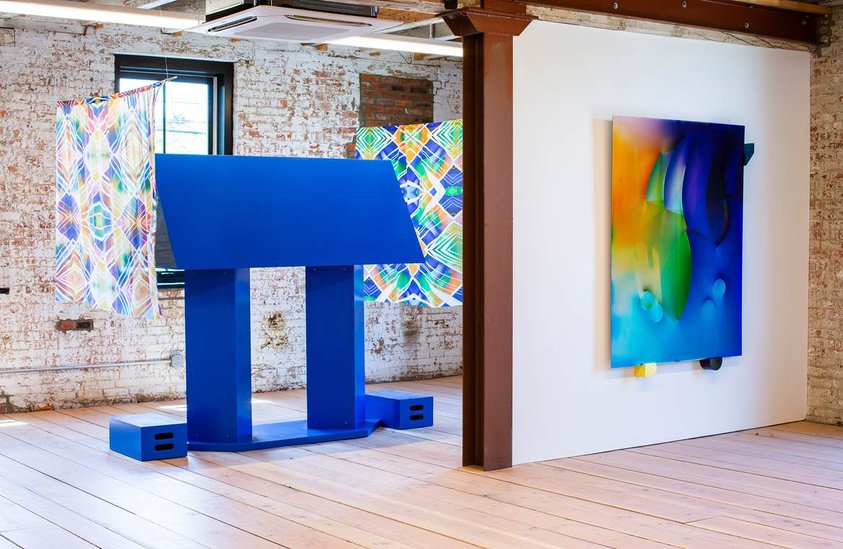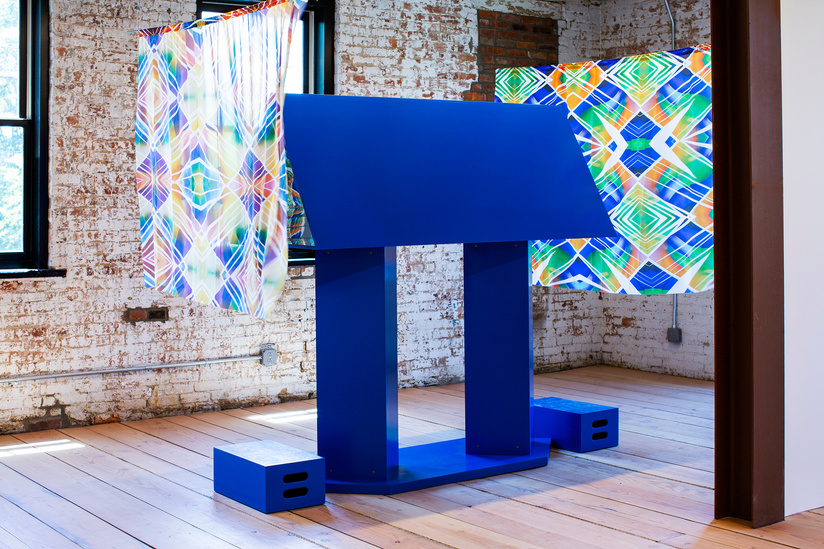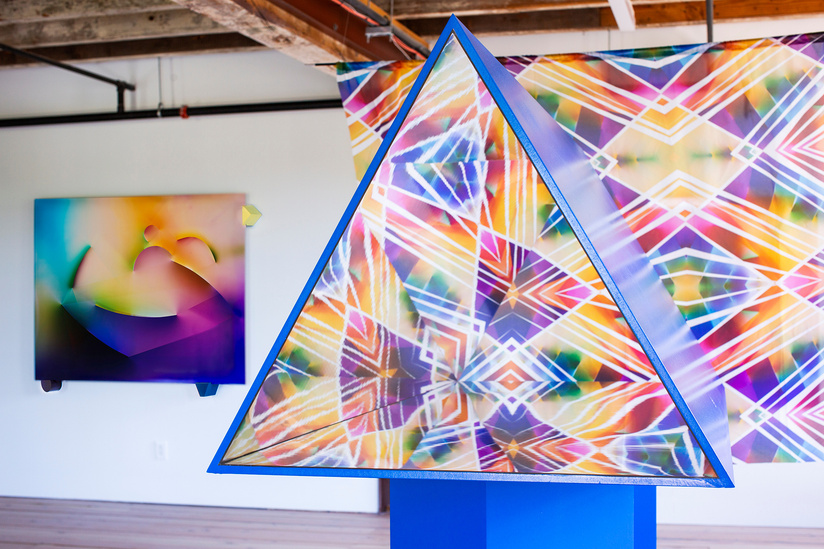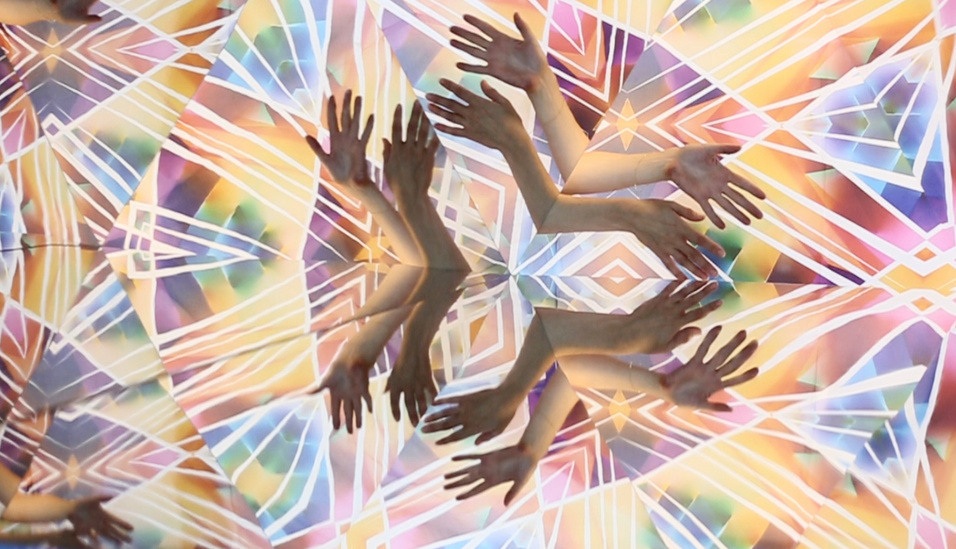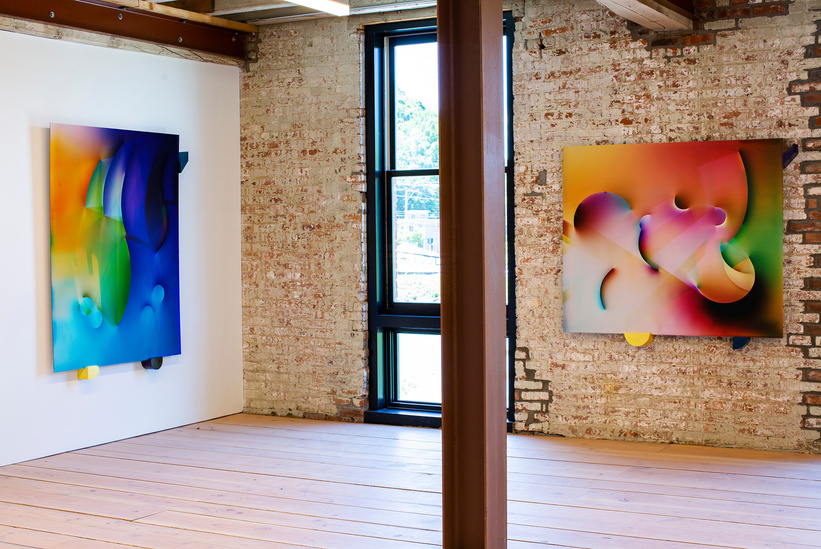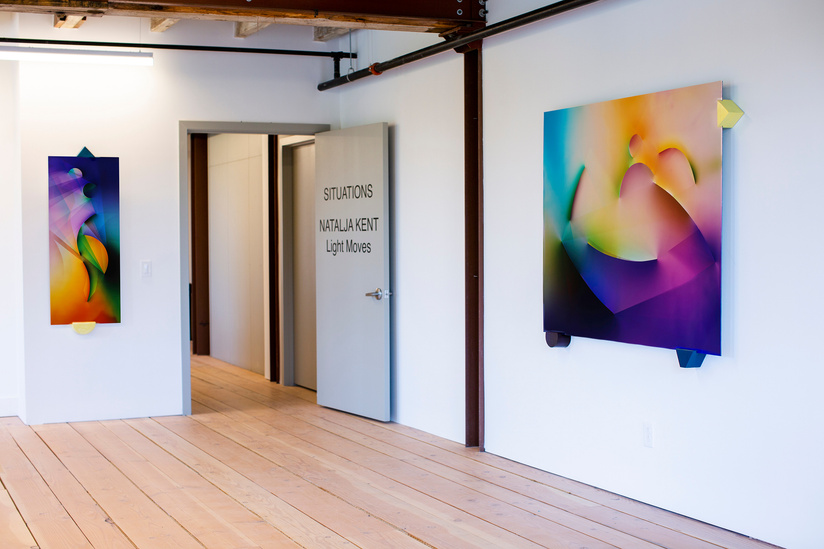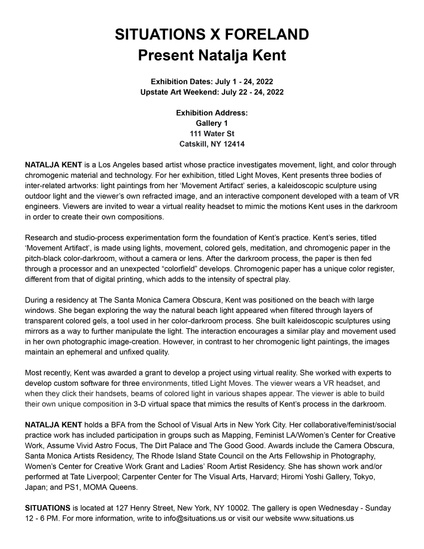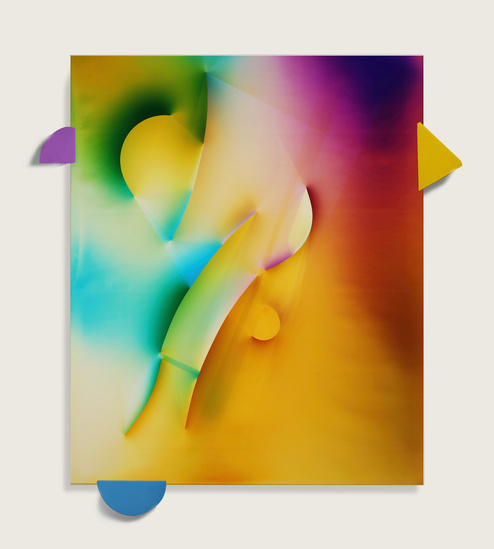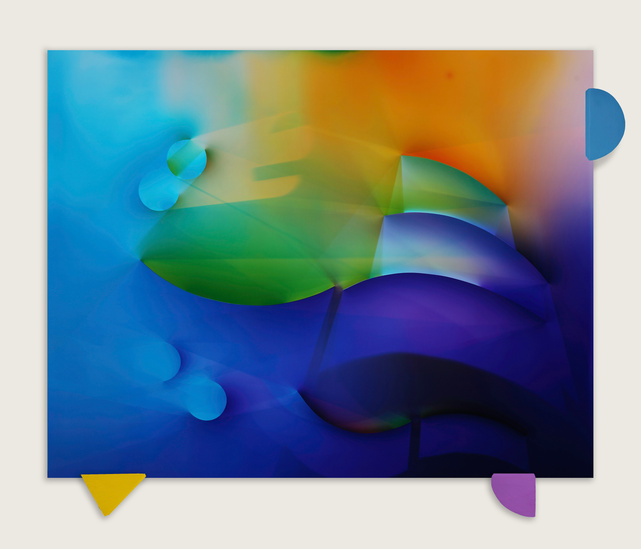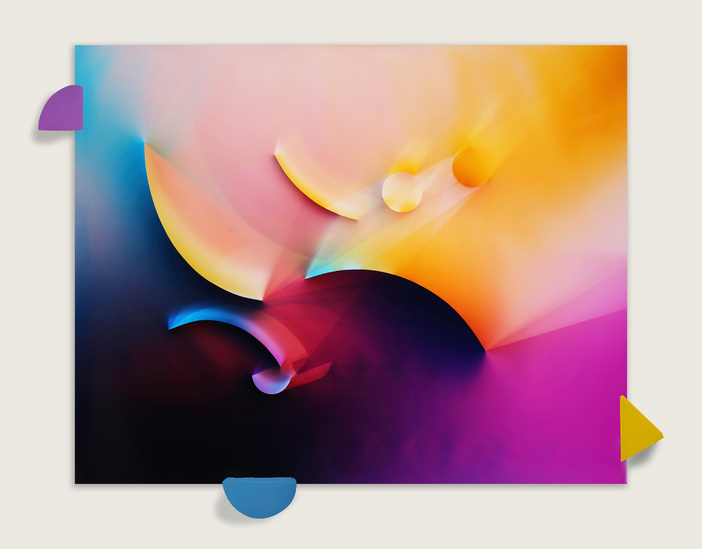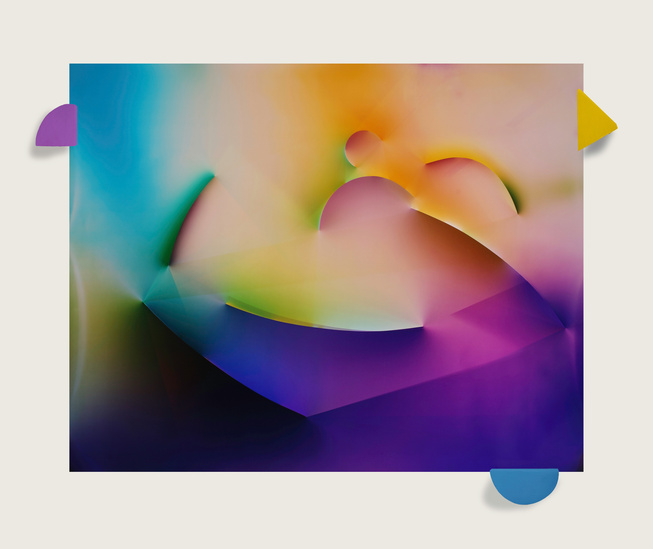 Natalja Kent
Artist Statement
Movement Artifact
July 2022
Movement Artifact is an exhibition of chromogenic light paintings that continue Natalja Kent's material exploration of process, color, and embodiment.
Each piece in this series is an artifact of a physical experience had by the artist in the solitude
of a pitch-black darkroom. These experiences of expanded presence and consciousness, rooted in body scan meditation cultivated by the artist over years of rigorous and diverse somatic study, bring Kent
into deep collaboration with the chromogenic-print paper. This light sensitive halide emulsion paper, which was one of Kent's first mediums as a young artist, is now an expiring medium. Movement Artifact brings the body, colored light, and the layered color paper together to be in a collaboratively embodied materiality. The paintings that result are both elegant and uncanny. Playful shapes, color fields, and angles emerge and tangle across the richly layered surfaces. Entire universes develop through the abstraction, hearkening back to the stop motion films Kent loved as a young child spending summers in her mother's home country of Czechoslovakia. In these completely analog works, the wisdom of the physical body is translated through energy and color.
In the lineage of the Process Art movement, Kent creates performance constraints for her paintings. Each piece is a collaboration between her, the chromogenic paper, light, embodied meditation, and her family lineage. The child of an immigrant artist, Kent's process in Movement Artifact expands upon the specific work of her parents: her mother's training as a ballerina and work as an engineer influences her physical movement, while her biological father's lifelong work as a painter and color theorist influences her
color choices. By personalizing the constraints of these pieces, she makes a marked shift away from the anonymous constraints of past masculinist art movements that proclaimed the death of the artist. With this work, she insists upon her body, her energy, and her history—all in vibrant and intense color. All alive.
A deep meditation on the materiality of a dying medium, Movement Archive grapples with the slipperiness of the present and attending to the wisdom of change. She situates her personal physical embodiment within her larger family body, utilizing her art practice as a site of ancestral continuation, expansion, and conversation. This work is deeply feminist, in its insistence on the body as the cite of knowledge, wisdom, spirituality, and creativity. This work proposes play, exploration, and serendipity
as crucial facets on an embodiment/healing practice. By placing an unwitnessed process at the center of this work, Movement Artifact resists capitalist expectations of productivity and surveillance. The work we get to see is what happens after, the artifact. The experience gets to remain intimate, a mystery. The light paintings sparkle with the aura of how they were created, yet we, as viewer, never get to see or know what happened. In a time of digital everywhereness, the specificity, privacy, and routine of these works
is refreshing. It proposes the rich wisdom of being present with the body in its experiences of joy and strength, and of being in the shared expression of that healing together.
Natalja Kent lives and works in Los Angeles. Her work has been exhibited in the U.S. and internationally at Tate Liverpool (UK), Carpenter Center for The Visual Arts at Harvard (Boston), Pace Gallery New York (NY), The Berry Art Museum (VA), Hiromi Yoshi Gallery (Japan), The Museum of Museums (Seattle), PS1 and MOMA Queens (NY). In 2021, Kent. was an artist in residence at Google (Mountain View) and Camera Obscura (Santa Monica). Kent's work has been reviewed or featured in WIRED, ArtNet, Voyage LA Magazine, and Manual/RISD Museum Publications.
­­